Previous Productions
See our Facebook Events page for more of our previous productions!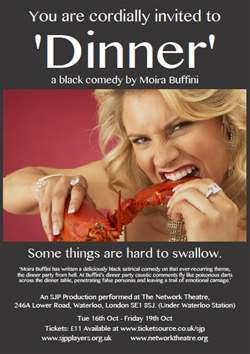 Dinner - by Moira Buffini
It's my creation - like Frankenstein's monster. An artist, a scientist and a sexpot are coming to dinner. Primordial Soup is first on the menu.­ Let the dinner from hell begin. A wonderful comedy chiller, with blood on the carpet before bedtime.
Performed at the Network Theatre, Waterloo 16th - 19th October 2012.
See us on Facebook!
The Canterbury Tales
A modern take on Chaucer's bawdy tales by Phil Woods and Michael Bogdanov.
Fun, rowdy and just a little bit rude!
A co-production with The Westminster Players and The Carlton Players.
17th - 20th April 2012
The Rosemary Branch Theatre, 2 Shepperton Road, London N1 3DT
pictures coming soon....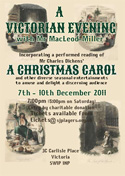 A Victorian Evening
An evening of Christmas Carols, and A Christmas Carol!
Performed in Carlisle Place, Victoria, December 2011
Click here to see more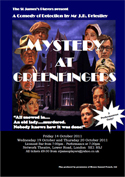 Mystery at Greenfingers
A comedy of detection by Mr JB Priestley
performed at the Network Theatre, Waterloo, October 2011
Click here to see more